10th September 2013 | Posted in
Festivals
by H. Simpson
With thanks to REPLAY for VIP Bestival tickets, without them the following trip would not have been possible...
Tomorrow morning we're catching the 7.30am train to London where we'll then get a coach to Portsmouth to get the ferry across to the Isle of Wight where Bestival is. I've never been on a ferry before so I'm quite excited! On doing my research, I've found that after all the head-liners have finished, 'Films in the Forest' takes place which is set late at night in woodland that is all lit up and ambient. Playing classic films with DJs playing cool soundtracks in the background, I'm definitely going to try and attend this, maybe the Saturday night which is 'Fright Night' with Fake Blood playing a soundtrack to Evil Dead 2. There's also plays, a keep fit class and comedy. The line up stretches from all scales of genre, a little bit like V, but the difference with Bestival is that it goes one step further than the rest in terms of entertainment. Some of the best line ups I hope to see are Fatboy Slim, Wu Tang Clan, Disclosure, Red Light, Jessie Ware, DJ Fresh, Sinead O'Connor, Carl Cox, Annie Mac and Pete Tong and I guess I'll have to go see Elton John seeing as he's headlining! I've wrote a brief itinerary out but I'm sure there'll be proper ones when we get there.
I've never contemplated going to Bestival before, I thought it'd be all chart music and bands, but since going, my mind has completely changed. I've found that Bestival is an eco-friendly, cosmopolitan and hippy inspired festival that is a large mix of house music (which surprised me) and 'folky' type music. Whatever music your into, Bestival tries to cater for every individual even if its a little 'out there'. This is one of the best things about the festival; there is something for everyone. The VIP camp was the furthest away from all the music meaning its quieter but the downside is that you've got to walk the furthest to get there. There are however driven buggies that can take you wherever you want but I heard its £20 a time!
VIP Camping Entrance
The food outlets were less burger type vans and more eco-friendly/alternative foods such as home-made soups, crepes and lots and lots of cups of tea! There was even a Nandos and Wagamamas there and weren't too expensive, unlike the drinks prices!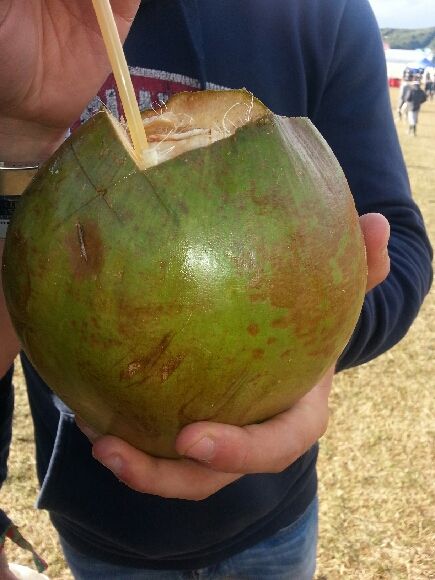 Coconut Drink
The whole place was more decorated than any festival I've been to before. Each section was different depending on the theme; Indian, enchanted forest, nautical, old school fairground, etc. They'd really gone to town on the decor and individuality of it all to ensure it looked the part, especially at night as all of this was then lit up...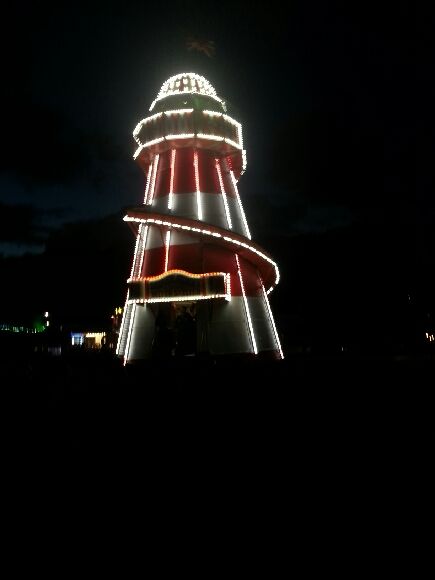 Helter Skelter at Night
There were more strange and random tents and stalls in the Wishing Tree Field. Things like the Big Love Inflatable Church where you can 'get married' with pretend bridesmaids, mother in laws and costumes, old gypsy caravans with random bric-a-brac and eccentric characters inside and a giant Lionel Richie head that you can crawl into, pick up a phone and he sings to you! Random?! Below is a double decker bus that serves tea and you can sit at the top, told you they're tea mad! (Yes I had one).
The Tea Stop
Day 1
It was a stupidly hot day, so hot that everyone was sweating. We got to London and found Replay where inside was decorated with pairs of jeans and products hung to the walls. We received our festival packs and made our way to the coach to Portsmouth for the ferry where Replay handed out cans of Strongbow and Stella!
Bestival Ticket
I've never been on a ferry before so didn't know what to expect and being one of the first on, got a decent seat on the top deck. We then had to walk along the longest pier you can imagine along with our booze clad bags waiting over an hour for the shuttle bus.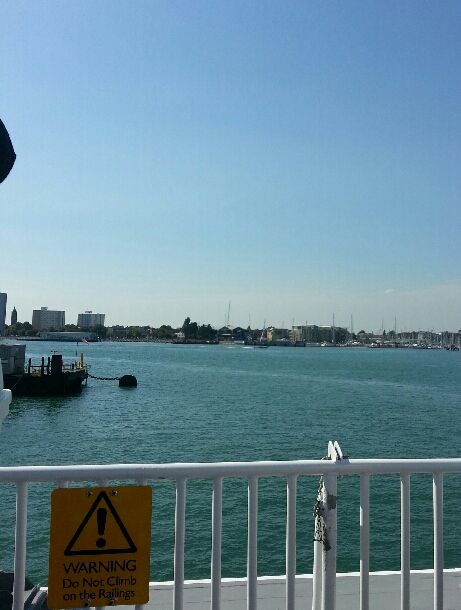 View From the Ferry
There were around 14 of us that didn't work for Replay and around 8 of us drank together on the first night and decided to all go out together. There were no big line ups but there was still a lot going on. One of the first places we went was the Wishing Tree. This is a small lit up tree that is a party inside! Inside was rammed (you can probably only fit in about 40 people) and playing some drum and bass. Everyone got pushed about and squashed but it was fun. Everyone got split up but we still stayed out, tried the different tents, some of which didn't have a theme so one minute there'd be an indie band on and the next someone singing solo.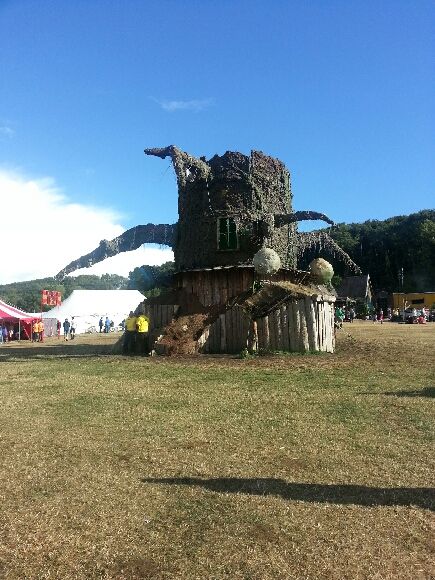 The Wishing Tree
Day 2
We'd been invited to a Replay lunch on the Friday which was held back stage. I heard it was paella and, fearing the worst, went intent on just getting drunk in there instead. Though when I got there, it was a chicken and chorizo paella (much to my relief!) People stayed a while and made use of the free drink and we decided to go explore the place. Later on, we heard that Disclosure had come backstage 5 minutes later after we'd gone, to bag their Replay freebies where everyone got pics. Gutted!
Backstage at Replay
We found ourselves among a place which was set apart from the stages and more near the camp sites which offered massages, hot tubs and other similar treats. This was Temple Island. Try and imagine a large spaced area full of little ponds, swinging chairs, chilled out music and trees filled with hand written messages of 'confessions' that people had stuck on. Just like Hunter did at this year's Glastonbury, Schuh offered a welly exchange where if you handed in your unwanted shoes, the Schuh tent would give a free pair of wellies out.
Sitting Area in Temple Island
The daytimes seemed to last a lifetime, maybe because of all the drink consumed and the fact that everyone was waking up far too early for my liking. We spent the rest of this day in a section of Bestival called 'Bollywood'. This was the most decorated area, full of Indian inspired tents and buildings, even the toilets in that area were painted with an Indian art design on the doors.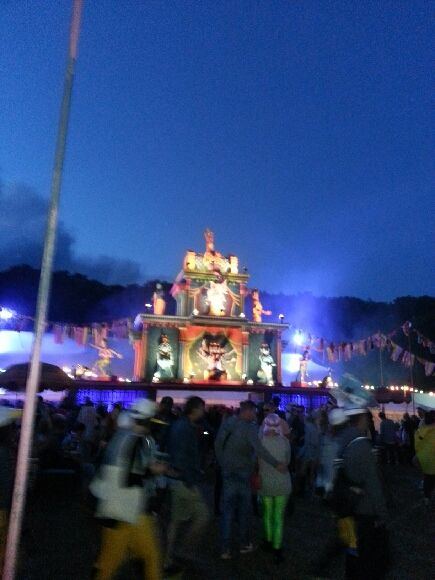 The Bollywood Tent
We randomly found the 'Hidden Disco' not even meaning to! This was like an enclosed courtyard with DJs playing hip hop mixed with some house. We danced on the podium and ended up all three of us jumping off and crowd surfing into the crowd! Every other day after this, word must have gotten round where this hidden disco was as there was always a queue so this was the only time we went in. Outside of this, there was an old school bus which you could go in. It had its own bar and music too! The food around here was really good, mostly healthy options but expensive!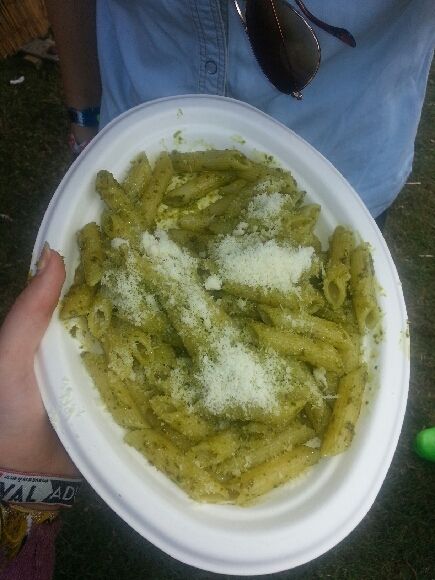 Pesto Pasta and Cheese!
The best act to come on in the day time was Wu Tang Clan. I didn't expect the mass crowd that actually turned up to this though! Seeing people like that perform in the daytime doesn't really give much of an atmosphere in my opinion, especially when not in the tent, so we didn't stay for the whole set of this. As it got darker, it was time for Fatboy Slim which I was really excited about as I'd seen him a few weeks ago in Ibiza and he was amazing. Again though, he was on the main stage and I think this ruined it a little for me (you can just about see him on the below pic!). Half way through the set Disclosure were playing in a nearby tent and I couldn't miss this. In the crowd, I lost everyone, didn't have anyone's number and was too early to go back so I had to go see
Disclosure
on my own! Like a sado! Forcing myself not to leave until the very last song, I walked back to the tents on my own and crawled into my soaking wet tent!
The Main Stage at Night
Day 3
The Saturday was the main fancy dress day at Bestival and this year the theme was 'nautical'. Nothing of mine arrived in time which was annoying because all over there were people dressed in costumes from sailors and mermaids to jellyfish and seaweed! From home made to clearly expensively bought costumes, I can definitely say that people really went to town on their costumes.
Some a little wierder than others...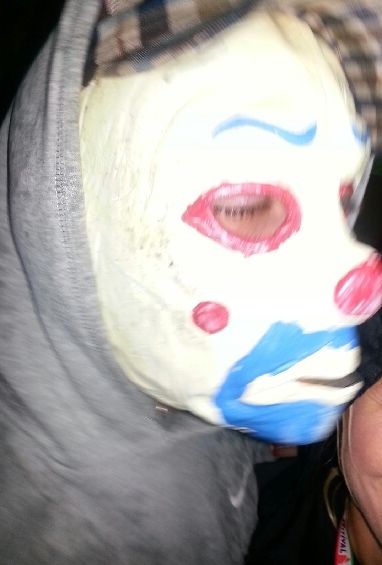 Fancy Dress
I wasn't too fussed on going to see Bastille as I'm not really keen but everyone else was going and I must say I thought they were quite good and gathered a massive crowd!
The Crowd at Bastille
Two incidents occurred in the day time on the Saturday involving toilets. These were really bad by the way and I was grateful for the (slightly) cleaner ones we had in VIP. A girl had dropped her phone down the toilet so far that she could not see it and proceeded to shove her hand down to find it (the toilet was blocked as well!). People were videoing this and taking photos and she actually ended up finding it! Later on, a girl pushed in a queue for the toilet and got hit by another girl! Toilet dramas!
Bestival Sign
Rudimental were good, as was DJ Fresh, we actually got quite close up for that one. At night, Snoop Dogg was playing on the main stage. I'm not normally a fan and was a bit sceptical as he's now changed his name to Snoop Lion and turned all reggae, but he made sure he got all his classics in and held a large crowd (although not as large as I'd expected). Red Light were playing in the Bollywood tent and we went a bit early but you couldn't even get into the tent. It was the most packed tent there was at the festival, maybe because it only had one entrance and exit so I STILL didn't get to see Redlight. Missed them at WHP, Ibiza, Creamfields and now Bestival! Its not meant to be!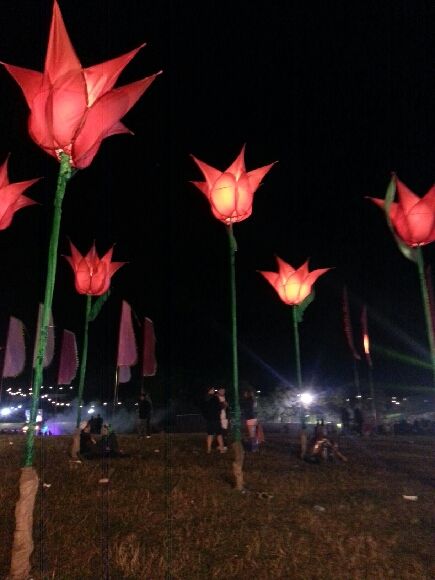 Decoration in Tomorrows World
The Port was situated in the Bollywood area and was my favourite bit. It was a large ship with dancers on the deck and the DJ on a balcony. Annie Mac played here and it was dark and rainy and lasers were shining everywhere; perfect atmosphere and nobody even cared about the rain. Trapeze artists were swinging above the crowd held by cranes, there was even a man in a fishing boat who then went to dangle out of it like he'd fallen out. Playing stuff such as Infinity Ink: Infinity, Annie Mac was one of the best ones.
Trapeze Artists for Annie Mac at The Port
Day 4
Sunday morning was pouring it down which was probably just as well as people were tired and couldn't be bothered to do anything. It was best to pack all our clothes up on Sunday as well as we had to be up at half 5 the following morning to leave! One of the girls we was with wanted to go see Nina Nesbitt who gathered a small crowd in the Replay tent. One of the men who works for Replay knew how much she liked her so organised for her to meet and have a photo with her after the show! When I went backstage, I got told that Carl Cox had just left two minutes ago! And they'd all had pictures with him! Anyway, when I'd gotten over that (took a while) we went to see Elton John, just because it'll probably be the only time we ever see him play! He played for an hour and a half but I stuck through it and this was the largest crowd I saw all weekend. The finale firework display was straight after Elton's set and carried on for a good ten minutes.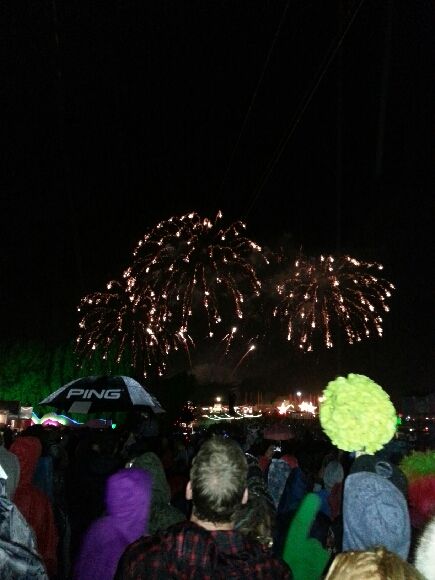 Grand Finale Fireworks
After this we went to the Ambient Forest which is a large area of woodland with various paths, bridges and hanging trees which was good at night because its full of twists and turns and its decorated with all neon lighting. A section of the forest is called Shipwreck Island where mythical creatures jump out from the trees. Theres even an amphitheatre showing classic films with DJs doing a soundtrack over the top. Everything you don't expect at a festival, at Bestival there is. Full of the unexpected. Back at the Port for one last time, Knife Party followed by Carl Cox were the last to play, both were amazing but the rain got so bad during Carl Cox's set that the power cut out twice!
Lasers at Carl Cox
If your planning on going next year...
Highlights :) -
Being able to get a shower was good and toilets that have toilet roll and frequently cleaned in VIP.
Replay goodies!
Nandos! (Around £7 for a main with one side)
Backstage at Replay
Programmes that go round your neck are £10 but you also get a free cotton bag and thick Bestival book.
If your up early, go exploring throughout the day, there's so much to see I didn't even get round it all.
Bestival is huge, there's always something to do
There is a bus to Sainsbury's not far away which people kept going to for cheaper food or drink
If your skint you can go around collecting plastic cups and get 10p per cup!
Firework finale
Bestival is eco-friendly and is involved with lots of charities so feel good about doing your bit!
Lowlights :( -
Charging your phone needs to be done but £25? come on!
You can take your own drink into the camp site with you but not into the arena, Id advise to drink what you can at your tent before you go through as drink prices were stupid! (doubles were £7.50!) or do what I did and stuff small bottles or cans down the back of your shorts and put a coat over it.
The VIP is a good 15/20 minutes away from the music so don't get lost and find yourself walking back alone at night (yeh like i did!)
I felt safe but police did go round telling people there had been lots of things stolen out of tents even when people were in them asleep so take a lock!
Missing out on meeting Disclosure and Carl Cox backstage choosing their Replay gear!
Queues for the toilets when your desperate! Also keep some tissue in your bag and hand sanitizer is good! (Don't drop your phone!)