27th August 2013 | Posted in
Festivals
by H. Simpson
We've bought a hospitality ticket for Creamfields just for the saturday and sunday (fridays lineup is always rubbish) and we're leaving at 1am to beat the traffic and sleep in the car when we get there. The carpark and camp isn't open until 7am so we'll have to find somewhere to go. I'm really looking forward to this but just heard that Nervo have pulled out nooo! Some of the best ones I aim to see are Sebastian Ingrosso, Alesso, Afrojack, Steve Angello, Redlight, Kutski, Alex Kidd, Steve Aoki, Avicii and Aluna George Live. I went last year and spent the saturday there but the sunday was called off as it ended up being flooded! Me and my friend's tent was flooded we basically just slept in a giant puddle so I'm more prepared this time...
Saturday Highlights
Steve Angello
Having seen Swedish House Mafia and Sebastian Ingrosso live before, I was hoping for good things and Steve Angello did not disappoint. In fact I think he was maybe better than Sebastian Ingrosso purely on the fact that he gave a good show. He was playing on both days of the festival, due to him not playing in Ibiza this year, only festivals as he wants to play for the fans that cannot afford to go abroad this Summer. I went to the saturday's set as this was in a tent whereas the Sundays was on one of the main stages which is good but not as good an atmosphere in my opinion. It was late at night so it was dark outside and the tent was very cramped. Even so, no one seemed to care and when blasting out all the Swedish House Mafia songs, he really got the crowd going. As well as this, to each song, there were lasers, streamers, small fireworks and air machines as well as big coloured balls bouncing out into the crowd. Last time I saw colourful balls into the crowd was at a Coldplay concert. Finishing the set with one of his latest solo tracks, Steve Angello had the crowd going with the likes of Save the World, Don't you Worry Child, fellow Swedish Sebastian Ingrosso's Reload and Justice's We Are Your Friends.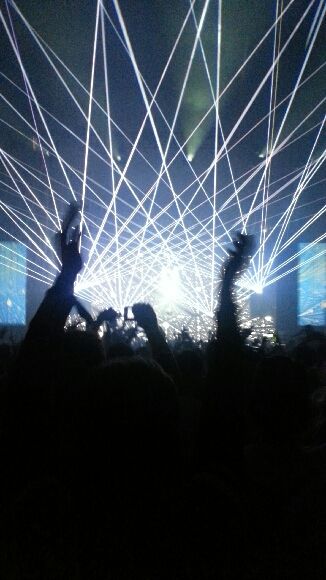 Avicii
Avicii, unsurprisingly attracted a mass crowd to his outdoor stage. Standing watching him, I realised how much diverse his audience has become since watching him at Creamfields last year. This year, the crowd was bigger and louder and two songs that got everyone jumping around were 'Levels' and 'Wake Me Up'.
Benny Benassi
Benny Benassi was on before Steve Angello and definitely played a good performance to set things off. Playing his top two best known tracks 'Satisfaction', followed by 'Cinema', Benny Benassi had his finger in all genres from some serious fist pumping to a good sing a long. Finishing off with 'Beautiful People', his collaboration with Chris Brown, he had definitely warmed everyone up for Steve Angello!
Sunday Highlights
Dimitri Vegas & Like Mike with Steve Aoki
Dimitri Vegas & Like Mike were playing during the day which was perfect because it was a really hot day - unlike Leeds Festival! A friend of mine always goes on about this duo and I was never really that fussed but on seeing them at Creamfields, I am now a massive fan! So much so that when going to see David Guetta for his closing act, and he did not appear (due to his plane being caught on fire apparently?) and instead Dimitri Vegas & Like Mike came back on, I was not even bothered! Especially as they then announced a special guest was coming out with them, none other than Steve Aoki! Which was a bonus as I'd tried to go and see him earlier on but the tent was so ridiculously crowded, it was impossible to get in! So this was good news! They even did a crowd surf!
Sebastian Ingrosso & Alesso
Sebastian Ingrosso and Alesso were performing on their own and then afterwards they were performing together back to back! This was handy as I'd missed both of them solo due to watching other acts so really it was a 2 for 1! Again, the tent was full of lasers and flashing lights and ensured they played other songs as well as their own that an audience could chant along to such as Florence's 'Sweet Nothing'. My favourite of this set though was Alesso's 'Years'. If you loved Swedish House Mafia but never had the chance to see them, I'd recommend seeing one of them solo as they play all their songs anyway! (Steve Angello and Axwell are both playing separately at Warehouse Project soon, I'd definitely recommend it). Alesso is another DJ that is very similar to these; uplifting songs that you've probably heard on the radio, just never knew it was Alesso.
Kutski & Alex Kidd
I really wanted to see Kutski and we were 20 minutes late for his set. Set in one of the smaller tents, Kutski didn't disappoint. Alex Kidd was on after and just as good. It was a change going in the Goodgreef tent from the rest as its a lot harder. So hard in fact that when watching Steve Angello for the second time on the main stage, all we could hear was thumping in the background from this tent which made us go over!
Downsides to the festival:
We stupidly parked ages away and then its ages to walk from your camp to the entrance with all your stuff
Drinks prices were stupid £4.50 a drink or a single vodka or £8 for a double, or £6 for a cocktail. Food was around the £7 mark
People still thinking its funny to shout Alan!
Upsides to the festival:
The weather - stupidly sunny!
We went Hospitality so we got showers and clean toilets which really were regularly cleaned and always had toilet roll in! We got 2 tokens for food and access to the Hed Kandi tent where a buffet style meal was on the go.
Easy to find where all the performance tents are as colour coded